However, some conference badges are worn on the collar of the suit, while armbands and lapel pins have relatively fixed positions.
Pay ATTENTION TO THE SIZE AND WEIGHT OF THE BADGE. If the badge is too large and heavy, add a horse pin to prevent the badge from falling off.
If THE BADGE IS SMALL AND LIGHT, SHOULD AVOID leaving the badge needle hole on the clothes, you can use magnet accessories, directly put on the badge across the clothes with a magnet.
Long BADGES SHOULD be matched with safety pins or 2 PINS to PREVENT rotation OF THE badge.
There are rules for wearing a brooch suit.
Men's brooch wearing way is always strict

. If with

the collar

 

then

the brooch should be worn on the left side;

 
If you wear clothes without a collar, wear them on the right side. 
Wear it on the right side if your hair is left, or on the left side if you don't.

 
Also, the upper and lower positions of the brooch should be parallel between the first and second buttons.
In addition to the above mentioned, when wearing the badge should also pay attention to the color of the suit. The color of badge and the color of suit should match well.
When pregnant women and children wear badges, try to use magnet accessories to avoid skin injury.
Badges are a symbol of different identities. Different occupations and positions will wear different badges, which not only reflects the identity symbol, but also reflects the image of etiquette.
Badge Etiquette:
1. Since ancient times, it has followed the etiquette of "left is the top", and the badge is worn on the left chest to show respect.
2. The ancient Chinese reading habit is to read from right to left and look at others from their right and left. For example, staff badges are pinned to their left so that they can be easily seen by others. Your left side is the right side for others to see clearly. 
3. Because of the silk scarf, the name tag of the stewardess is worn on the right side of her in order to balance the center.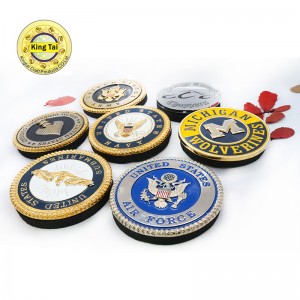 1, badge wear left and right, the guiding principle is for others to see easily and clearly.
2. If the garment is asymmetrical, the badge should be worn on the side that balances the visual center of gravity.
3. Badges, whether worn on the left or on the right, should be consistent with all staff in the same unit or company.
Kingtai craft is an expert OEM and ODM lapel pin manufacturer for domestic and overseas customers. We design and carry on all procedures in house.
If you would like to make your custom lapel pin, please feel free to contact us by emailing us or by calling us on +86-752-5706551.
---
Post time: Aug-06-2022