Trustworthy Lapel Pin Custom Manufacturer In China
Customize Lapel Pins With Competive Price,20 Up Years Of Industry Experience.
We are a custom lapel pins manufacturer in China that 26 years of experience in producing, there are 70 employees in the factory and completed the process from manufacturing artwork to shipping.
We make many Custom Enamel Pin for sale, there are many different designs and processing on the Metal lapel pins, you can customize the Enamel Pin what you want.
We made lapel pins for clients from all of the worlds, from person to companies, from Startup Companies to the big companies as Disney, we know different demands of different clients, we also know what styles of the lapel pins are popular in different countries.
We are a real source lapel pins manufacturers and make about 70,000.00 pieces of pins in a day with high quality and the best price.
If you want to do your own enamel pins just send us your design, we can offer a price for your reference.
Plating Colors
Clutch
Size
Package
There are about 20 plating colors for the lapel pins
| | |
| --- | --- |
| Shiny Colors: | Gold, silver, brass, copper, nickel, chrome.  |
| Antique Colors: | Anti-gold, anti-silver, anti-brass, anti-copper, anti-nickel.  |
| Foggy Colors: | Foggy gold, foggy silver, Foggy brass, foggy copper, foggy nickel.  |
| Dual Plating Options: | Gold & Silver, Antique Silver & Antique Brass, Antique Silver & Gold,Antique Gold & Antique Copper, Silver & Copper.  |
The default attachment is a metal butterfly clutch, and you can choose a rubber clutch, they are the same price.
The upgrade attachments are safety pin backing, deluxe clutch, and magnetic backing.
If you want, you can make your custom lapel pin with a tie clip, cufflinks, money clips, and Spatula & Spear Pick Dabber Tools.
Clutch type:Butterfly Clutch,Deluxe Clutch,Jewelry Clutch,Rubber Clutch,Magnetic Clutch,Safety Pin
The most common custom lapel pin size is 1 to 1.25-inch.
The most common trading pin size is 1.5 to 2-inch.
Of cause, need bigger sizes for the Complex designs.
For the team trading pin of the sports teams, the popular lapel pin size is 1.50″, 1.75″ or 2.00″.
But for the custom lapel pin, you can get any size you want in any shape.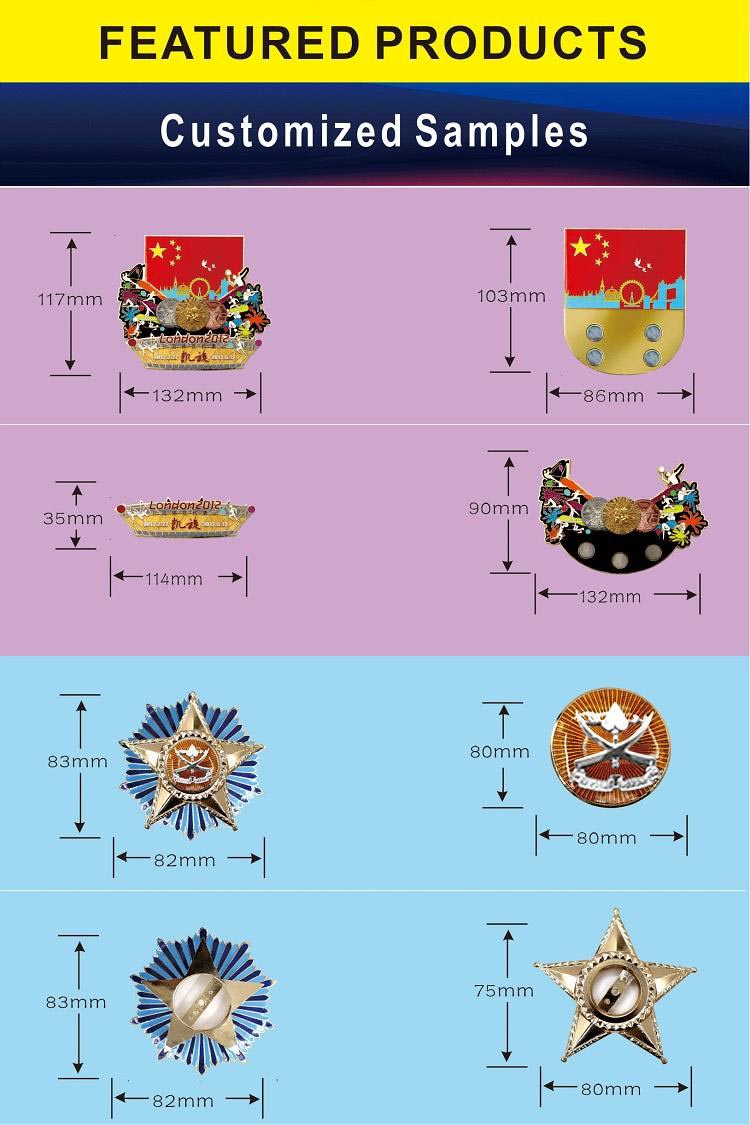 Hard Enamel Pins VS Soft Enamel Pins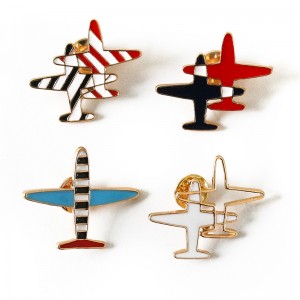 Why Hard Enamel Lape Pins?
They have an appearance comparable to jewelry
They are flat and smooth.
They like simple design, which works well.
They look more expensive.
They use shiny plating.
They are durable, not easy to be worn, and easy to store
Bright colors will not fade with time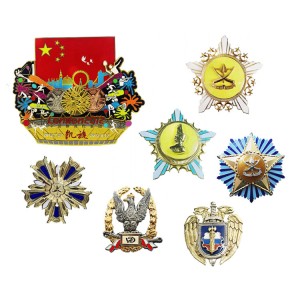 Why Soft Enamel Lape Pins?
They have raised metal edges.
They like more intricate design.
They look more cheaper.
They can use any plating or dyeing crafts.
The line between the metal line and the color area is clear
Bright colors and clear details
Not only metal plating,but also paint color line
Surface roughness
Whatever the occasion, we can create your perfect lapel pin.
A lapel pin, also known as an enamel pin, is a small pin worn on clothing, often on the lapel of a jacket, attached to a bag, or displayed on a piece of fabric. Lapel pins can be ornamental or can indicate the wearer's affiliation with an organization or cause.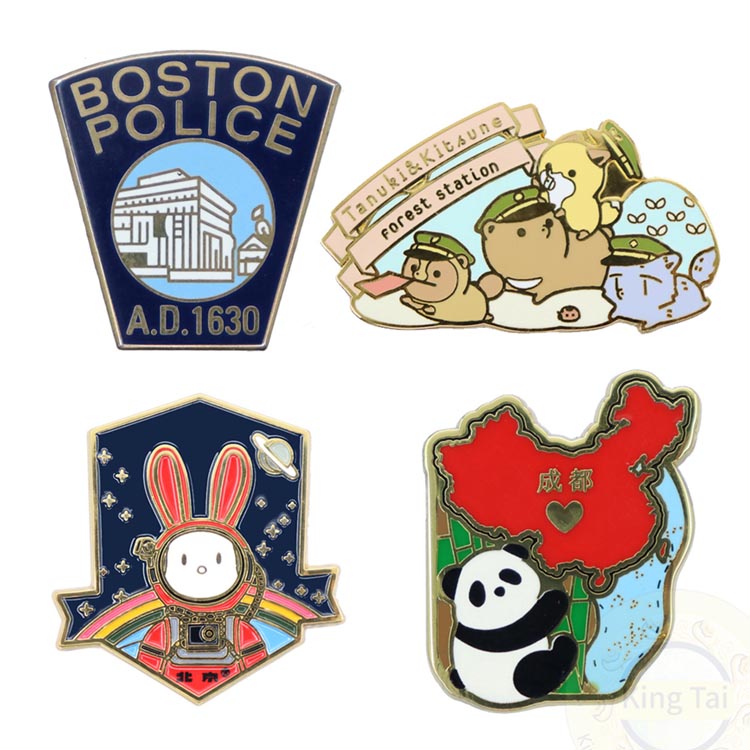 Hard enamel custom lapel pin make the enamel color surface at the same level of metal borders. The entire pin surface is flat. After polish the enamel colors get a smooth looking.
Hard enamel pin is a high-grade style of lapel pin, if you want to keep the lapel pins as collections, It is the best choice.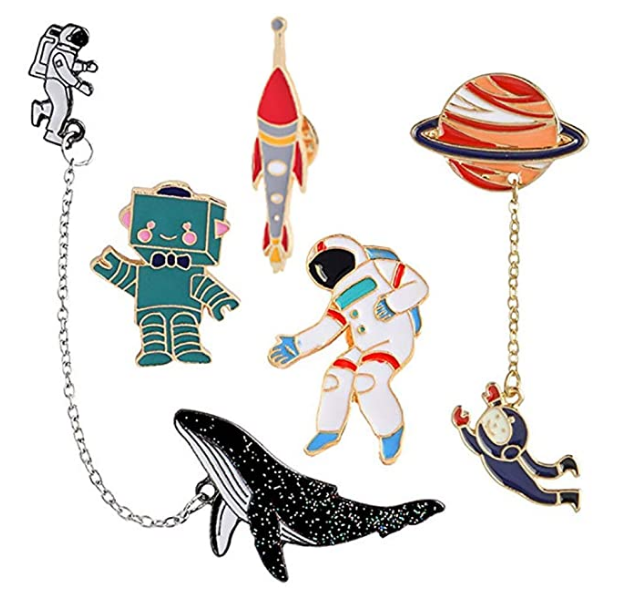 Soft Enamel is one of our most popular options. It offers a phenomenal looking product at a slightly better value than cloisonné pins. For soft enamel pins, the metal outlines are raised above the recessed paint, giving the pin depth and texture. You can run your finger across the surface of a soft enamel pin and feel the raised metal edges above the paint filled areas. The raised edges, coupled with how the recessed areas appear in light, can make a soft enamel pin appear to have a 3D effect.
The paints we use are mixed specifically for each order, which gives us the ability to match Pantone colors and your brand standards exactly. The color fills in the metal recesses contrast beautifully with the polished raised metal. The Soft Enamel process is one of our most popular choices for custom pins; it offers a phenomenal looking product for a price slightly less than the cloisonné process.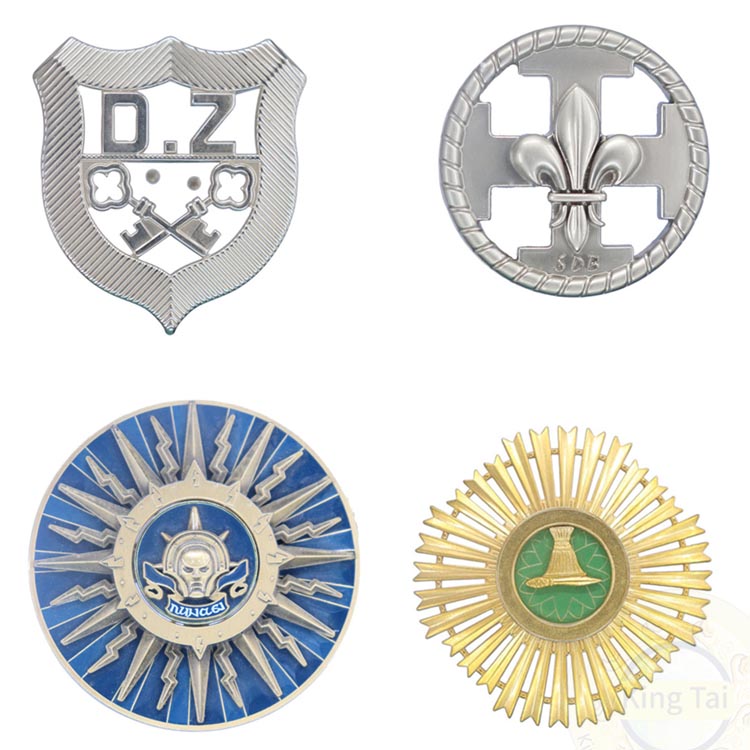 If there are not many colors in your lapel pin design, and you also want nice features, Custom 3D lapel pin is the right choice for this.
Most of the 3D custom lapel pin is made of zinc alloy, the process is die-casting, one of the liquid moldings.Liquid molding can make very small details in the products, and a very shape 3D effect.
The 3D pin creates a 3-dimensionallook and feel3D lapel pins will be suitable for compex design.Custom 3D Pins are often used for the desian like statues animals. architectural replicas. and human faces.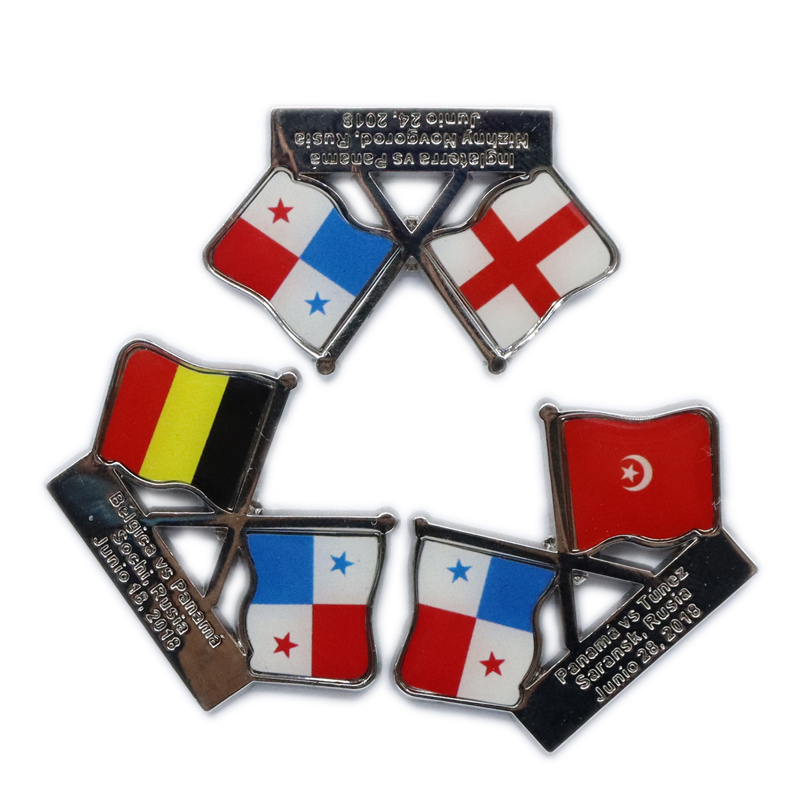 The 2D pin creates a 3-dimensional look and feel on front,but on back is flat.
Two-dimensional design has only 2 layers vs three-dimensional designs. This is a great option for a text-only or silhouette custom piece.
Two-dimensional designs are made with a raised area and recessed area to achieve the details of your design.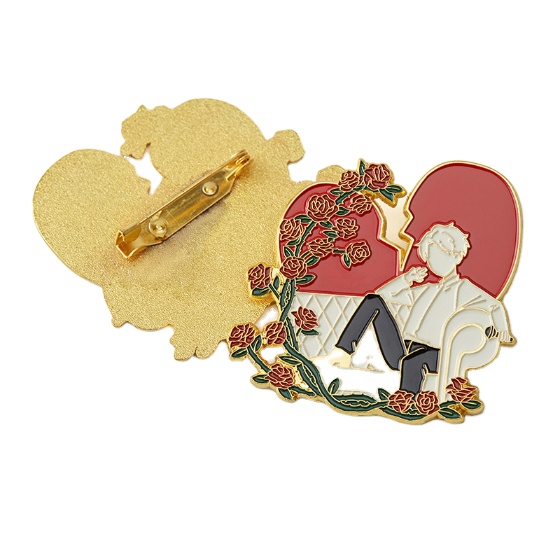 Die struck pins are the simple one, just stamp the logo or design on the based metal, cut out the shape, then plating, without any colors filled.
Simple process lead to a quickly lead time, and the cost is also very cheap than the soft enamel lapel pins.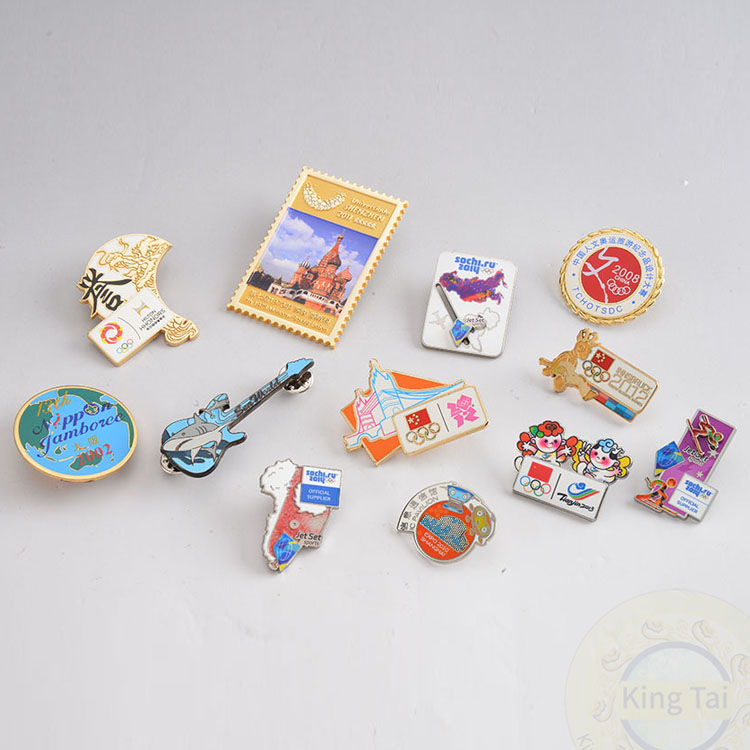 The printed lapel pin is High quality and cost-effective, the mos popular pin by far. beautiful, bright colors.
If your lapel pin design is full of colors, and you also need a short lead time, a cheap price, the Printed Lapel Pin is the best idea for you, just to print your designs to thin metal, about 0.8-1.0mm, the material could be iron, aluminum, or brass. The transparent epoxy can be covered to protect the printed logo.
Frequently Asked Questions About Custom Lapel Pins
All we need is your logo, text, thoughts or ideas. We have a staff of graphic artists and they will create your design from any information that you can provide to us.
Our minimum quantity to order is 100.
Once you have received your proof and pricing, approved the digital proof and paid for your order, we will begin production immediately! Standard production time is 7-10 business days but adding upgrades like glitter, spinners, etc. adds production time. Sometimes we get backed up during trading pin season as well and production times for enamel pins can extend to 3-4 weeks, so order early! When complete, we'll ship your order via UPS /FEDEX/DHL etc. Express couriers. If you need your pins quicker than our current lead time, we also offer rush trading pin options delivered in as little as 2 days!
We do! We have a few different rush trading pin options that can be made and delivered in as few as 2 days! For more information on these, check out this page! We also have the ability to rush some soft enamel pin orders but you'll need to confirm with your salesperson what the production queue looks like at the time of order.
All of the designs that you see on the web page are previous designs that we have created for other clients. We do not stock any lapel pins however we can create any custom design that you want.
Our delivery times range between one and four weeks after receipt of an order and approval of artwork (please refer to the appropriate item on this website for the normal delivery times listed). However, some delivery times may vary depending upon the quantity, production methods used, or uniqueness of your design requirements.
Any changes or cancellations are subject to charges based on costs incurred up to the time of your request. No change is accepted once an order is in production. If changes are necessary once production begins, it will be considered a new order.
The most preferred format is Illustrator or .eps vector artwork and all fonts are converted to outlines/curves. We also accept .jpg, .pdf, .tiff, .png, .psd or .bmp files (please enlarge artwork 4 times larger than the pin size). We highly recommend the use of PMS Matching System colors in your art in order to reproduce the colors you require. For our Digital Pins, artwork should be at least 300 dpi or higher.
Yes, we will send you proof after receipt of your order and will not produce your pins until we get your final approval of the artwork.
Unless otherwise agreed upon, all colors will be matched "as closely as possible" to your original artwork. Most of our products are hand-made / hand-colored and differences in dye and color lots can be expected from time to time.
FOR AN EXACT COLOR MATCH, we use Pantone® matching systems formula guide for coated colors. For an additional charge of $15.00 per color, we will match Pantone colors exactly to the colors in the Pantone® formula guide available from the Pantone matching system
Please note that due to differences in monitor calibration the colors displayed on your monitor may differ from the colors in the Pantone guide. We match colors based on the printed guide.
If a color match is not selected at checkout, then refunds for color matching will not be issued.
Prior to production of your order, you may cancel anytime and are entitled to our money back* guarantee! Once your order is in production, has shipped, and /or been delivered, we will not be able to cancel it and no refund will be given simply because the customer changed his/her mind. However, If the product has a defect when the customer receives it, we will either re-make your order FREE OF CHARGE or offer our customer and an order discount based on a case-by-case basis (depending on the severity of the product defect and the number of defective products involved). Please note defective product is extremely rare at KINGTAI, but we stand by-products and guarantee them to be the finest quality and superior craftsmanship!
If there's one thing we've learned over the years spent in this industry, it's that ordering the wrong quantity of lapel pins is an expensive endeavour. Needing to come back at a later date and order more lapel pins because you miscalculated on your first order will always cost more than simply ordering the correct quantity the first time.
Whether or not you need to order bulk lapel pins is a decision you'll have to make for yourself. We can't tell you exactly how many lapel pins you'll need for your order, but we can give you more information about ordering lapel pins wholesale, why customers tend to place these kinds of orders, and what to expect from pricing. Armed with this information, you'll always know when getting bulk lapel pins is the best option and when a more standard order is all you need.
The cost of lapel pins is based on unit price. Think of unit price as the cost per lapel pin. The unit price of an order changes based on a number of different factors like the type of lapel pin ordered, lapel pin size and certain upgrade options, but the primary factor in determining unit price is the quantity of lapel pins in the order.
Unlike some products, the higher the quantity of lapel pins you order, the lower the unit price will be. That shouldn't be taken to mean you'll spend less when ordering wholesale enamel pins. Instead, it's just a way to see how much further your money stretches when ordering in bulk.
The easiest way to factor price into your decision to buy wholesale lapel pins is to pay close attention to the price breaks and decide what quantities at which price point makes the most sense for your needs. Find the highest number of lapel pins you're likely to need and factor that quantity and unit price into your budget.
A quick note about our pricing table: While the quantities listed come in set increments, that does not mean you have to order that exact number of lapel pins. If you think you'll need more than 1,000 lapel pins but don't think you'll need a full 2,000 lapel pins, you can also select quantities in between those numbers. If you do decide to order 1,500 lapel pins, the unit price will be the same as ordering 1,000 lapel pins. Keep in mind that there's a point at which it will always be cheaper to increase the number of lapel pins you order to the next price break rather than trying to order 1,800 lapel pins.
Coming up with a unique design is a fun and engaging process. All you need are a few ideas to get started, and our art team can have your first proof ready within 48 hours. While the artwork can be just about any size, shape and color you can imagine, before getting too far into the design process, it's a good idea to keep in mind the design elements likely to increase unit price, and to consider what type of pin you need.
Most of the bulk custom lapel pins ordered from us are either soft enamel lapel pins or die struck pins. This is because they have the lowest unit price of all other lapel pin types other than silkscreen pins. However, the classic look and feel of die struck and soft enamel pins is what makes them the most popular.
Hard enamel, or cloisonne pins, are beautiful, and their jewelry-quality presentation makes them an instant favorite. However, hard enamel pins require different materials and a slightly different process to create, which is why the unit price for these kinds of lapel pins is slightly higher. It's the unit price that keeps them from being as popular an option for wholesale custom lapel pin orders.
When deciding on some of the other design elements of your bulk order of lapel pins, try to keep in mind the way certain upgrade options will increase the unit price of the order. Options like gemstones, cut outs and glitter or translucent enamel are great ways to make your custom lapel pins stand out from the crowd, but they also increase unit price.
An easy way to keep the cost down on your bulk pins is to stick with the design options that won't increase the price of your order at all. For example, so long as you stay within the size you need, the overall shape of your pins will not add a fee. Likewise, we include butterfly or rubber clutches, seven different enamel colors and multiple different plating options on every order completely free. Making a bulk order of great looking lapel pins without breaking the bank is easy when you partner with us.
When it comes to bulk lapel pin orders, different customers have different priorities. Many of the pin retailers we partner with have designs pre made before contacting us, but need a high-quality wholesale pin supplier who can meet deadlines. Universities and large corporations ordering employee recognition pins and years of service awards take advantage of our free artwork and revisions, on top of our other premium wholesale options to get their designs perfect before ordering.
We keep molds on file after completing each new project, making re-orders of bulk enamel pins quick and easy. Even if you don't plan on re-ordering the same pin designs throughout the year, our friendly and knowledgeable sales team is available to help you design something new.
Custom lapel pins cost under $7.50. Because they're easy to customize you can order 1 or 1000. We offer no minimums and reward you the more you order.
We usually try to ship out all of our custom lapel pins within 24 hours. For large orders this can sometimes be delayed, but by no longer than 72 hours.
No. We believe you should order exactly how many lapel pins you need. We are happy to serve you whether you need 1 lapel pin or 1000!
All orders are shipped via FedEx/UPS/DHL/ etc. Express courier or by sea shipment. Please contact us for shipping rates.
All lapel pins include a butterfly clutch. Additional attachment options are also available.
All lapel pins are individually poly bagged. Alternative packaging is also available.
Of course, if you find any quality problems with our products, you can contact our after-sales customer service to apply for return processing. About detailed return terms, please read the privacy and policy.
Order Lapel Pins Now for Delivery In Just 10 days
You don't have to be a lapel pin expert to order custom lapel pins with us. We'll walk you through every step of the process so you can quickly order the exact pins you want. If you're replicating a logo or other preexisting design, email it to us or upload it on our quote form. If you need help creating a design, visit our pin gallery to view some of the soft enamel pins we've created in the past. From the designs you see there, you can get some inspiration for your own pins.
We're also just a phone call, text, message, or email away and always eager to talk through design options with customers! Once we have a solid design idea for your lapel pin project, we'll start on a full-color proof and send it to you via email within just 24-hours. Make any changes you want. Once the custom pin proof is perfect and you give approval, we'll get to work making your custom enamel pins!
Every order of custom lapel pins includes
Often those seeking custom lapel pins have a decision to make – pay much more for high-quality work or receive inferior quality pins while staying within a lower budget. We eliminate this decision for you! With KINGTAI you get the highest quality custom lapel pins at prices you can afford.
Plus, we have no minimum orders! You can order anywhere from 1 pin to 10,000 or more lapel pins – and you can count on paying cheap prices no matter the quantity of your order. Get your personalized lapel pins now without breaking your budget. We also offer fast delivery and we provide digital proofs for you to sign off on before production begins. Get started now.
26 Years of Experience Making Custom Pins
Highly Trained & Skilled Pin Designers
Highest Quality Materials & Workmanship
Fast Turnarounds for Demanding Deadlines
Free Artwork & Design Consultation
Friendly & Responsive Custom Service
Factory Direct Pricing
100% Satisfaction Guaranteed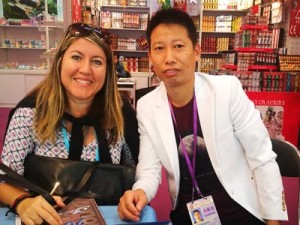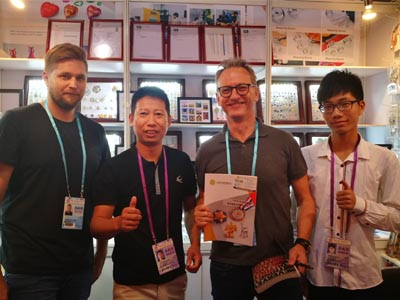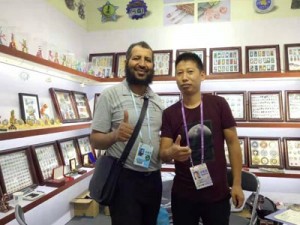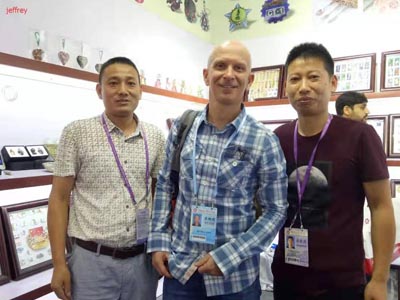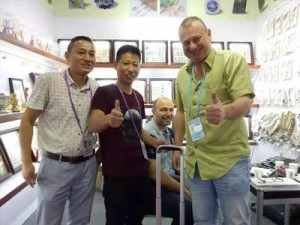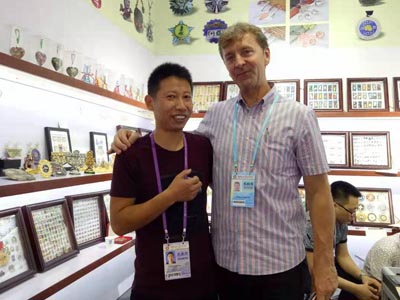 Frequently asked Questions
• Any file format is acceptable.
• Vector is preferred if available.
• The colors used are coated pantones.
• Plating options are Silver, Gold, Copper, Black Nickel, or Any PMS Color.
We accept all standard artwork formats. Send us your artwork and we'll provide an online proof. You can request changes to your proof and we will make them for free until you approve a final layout. While we accept all standard artwork formats, we recommend uploading vector artwork when possible (i.e. AI files or EPS files).
Yes we can make basic artwork changes such as adding or deleting text, creating a cut-to-shape outline, removing backgrounds and changing colors. We are not equipped to create your logo or design from scratch. If you are in need of full design services we recommend attaching images that serve as a starting point.
These pins are made of iron alloy and are extremely durable.
The default thickness and pricing is for 1.2mm. If you need something else please contact us for a custom quote.
Yes we have two options. You can add a custom back stamp or laser engraving. A custom back stamp would be raised metal. Laser engraving is often used to serialize limited edition pins (1/50, 2/50, etc.)
The pins are individually packaged in clear poly bags.
Yes, most commonly customers select backer cards and we can also do acrylic or velvet pin boxes. These options are available for extra cost on the cart page.
Yes, you can select any placement during the proofing process.
Yes, we assemble them for you.
They are also individually packaged in cello bags.
Yes you can request this during the proofing process. We strongly discourage this as the pins will likely get scratched in transit. If you select this option you are also accepting the risk the pins are damaged in transit.
Many people have purchased enamel pins at some point in their lives. They are an easy-to-use fashion accessory that looks great anywhere, such as on clothes and backpacks, adding to our sense of style. Enamel pins are considered small and affordable pieces of art and can be used to express emotion, reward employees, acknowledge team members, decorate backpacks, wedding accessories, and more. Its use-value far outweighs its cost of customization. So a lot of people fell in love with this little piece of art.
Today, people wear pins to express themselves and advertise what they like. They can put pins anywhere: backpacks, hats, shirts, pants. Enamel pins have become a fashion statement. Enamel pins are a good addition to selling clothes and stickers. And enamel's other cost is very low, but it can be packaged to sell at a good price, considerable profit. And easy to manufacture and transport can express various elements on the pin.
Type of enamel pin
Our enamel pins are available in many types. Let's take a look at some of the most common types, as follows:
Soft enamel is the most popular choice for making enamel pins and a favorite for beginners. It can usually have more color choices and can offer richer, more vibrant colors. Using soft enamel also allows you to get more texture detail in your design, including borders and edges that you can actually feel. But it's easy to scratch.
Hard enamel is more durable and strong than soft enamel, but it also costs more and has more restrictions on coloring. Hard enamel pins, by contrast, do not convey color and edge very vividly. In addition, hard enamel pins are coated with clear resin at the top to create a textured, smooth surface. If you use pins frequently, hard enamel pins are recommended because they are more durable.
3D mold pins typically have a more elegant, classic look and are made of zinc or tin. When you have a complex design for a pin that requires a cut or an imperfect shape, you will need to use a die-cast pin. This type of pin looks more textured.
Die-casting pins are made by pressing metal against steel molds to make pins. Tapping on the metal creates a concave area into which you can add color options. Some manufacturers also sandblast sunken areas to create a two-tone metallic look. This type of pin is also very textured, relatively speaking, the price will be higher. If your size and design are good enough, your finished product will be a very good work of art.
Enamel pins are expensive because you have to make a mold to make enamel pins.No matter how many enamel pins you customize, you will need a custom enamel pin mold. And, since molds are the most expensive parts, most people order small quantities, so the price per stitch may seem high, but that's because they spend money to make molds and spread the cost over a few stitches. So when evaluating why enamel pins are so expensive, keep mold costs in mind and buy in bulk to reduce unit prices.
The plating selection for your custom enamel pins is extremely important. It can change the whole look of the pin and take it from classic to modern and edgy. Most custom corporate pins feature our traditional metallic plating of gold, silver, or copper. For pin designs with light paint colors or lots of text, we recommend going with the antique versions of these metallic plating to enhance legibility. Modern designs frequently utilized our colored metal finishes though. The most popular is our black metal finish, which makes for a striking lapel pin that features very bold lines. This lapel pin finish is very reminiscent of striking comic book pen and ink artwork.