Enamel pins are a fun way to show off your interests, hobbies, and personality. Unfortunately, pins that are not secured properly can easily become undone and fall off. If you've ever lost a pin, you'll know how frustrating that is.
If your pins keep falling off, their pin backs might be too weak to secure them into place. To stop losing more lapel pins, I've gathered the best hacks, products, and solutions on how to keep pins from falling off.
Without further ado, here's how to stop pins from falling off!
If you're protective of your favorites, or wear your pins in an area that recieves a lot of knocking around, such as a backpack, these are great to have. Locking pin backs lock into place for extra security and are the sturdiest type of pinback. To remove them, a spring mechanism on the back must be lifted.
Looking for ideas on how to keep pins from falling off? Try using locking_pin backs! These special pin backings are specifically designed to stop pins from falling off. They have a locking mechanism that helps keep pins in place.
To "lock" enamel pins on your bag or backpack, I highly recommend these locking_pin backs . This product fits most lapel pins, has a smooth back, and is made of quality nickel-plated copper. It has excellent grip to keep your pins in securely place until you are ready to remove them.

Looking for a permanent solution on how to keep pins from falling off?
Try using super glue! If you don't plan to remove your pins, super glue is an effective way to prevent theft and keep pins from falling off your backpack or bag.
To attach pins permanently, simply apply a dot of super glue onto the pin back before securing the enamel pin. For pins, I recommend using a strong adhesive like Gorilla Super Glue Gel. This product has an easy-to-use, clear formula that works great on lapel pins and pin backs!
The Gorilla Super Glue Gel dries fast in only 10 to 45 seconds! For best results, I recommend waiting 24 hours for a full cure before wearing your pins outside.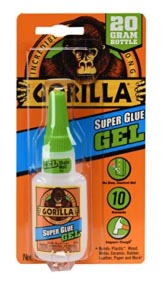 3. Buy Pins with 2 Butterfly Clutches Pin Backs
If your pins keep falling off, their backings might be too weak to secure them into place. To stop losing more enamel pins, I recommend replacing old pin backs with stronger ones, like these butterfly clutch pin backs .Butterfly clutch pin backs are the most common backings for lapel pins. These pin backs look like butterflies and easily open up when the "wings" are squeezed. They are strong and durable enough to ensure that you won't lose your pins again!
Note that the "wings" can feel hard under clothing. If you want something more comfortable on your skin, I recommend using a rubber pin back instead. Otherwise, this is a simple solution on how to stop pins from falling off your backpack or bag!

Safety_pin clasps are a secure way to attach lapel pins to clothes, bags, backpacks, and accessories. Although easy to open and close, they are difficult get undone by accident. It is no surprise that safety pins are a popular method to temporary secure loose or broken pieces of clothing.
If you are creating your own pins at home, I highly recommend using these safety_pin clasps as the backing. Unlike standard pin backs, these clasps stay securely in place and will not easily fall off.
For best results, select an appropriate length safety pin clasp based on the size of your pin. To attach them to the back of your enamel pin, simply apply a permanent glue like super glue. If you are DIY-ing your own pins, this is a great solution on how to stop pins from falling off at the get-go!

5.Put them somewhere safe
When you're not wearing your pins, put them somewhere safe. A cool display is a great way to show them off without the risk of losing them. This is especially good if you collect vintage or rare pins, which cannot be easily replaced.

Kingtai Enamel Pin : FOR QUALITY, ELEGANT ENAMEL PINS
The elegance, style, and spark that enamel pins exude, especially when properly placed on a piece of fabric or object, is undeniable. A set of stunning, quality soft enamel pins can make all the difference when it comes to sprucing up your wardrobe repertoire. While it is sometimes unavoidable that you might have to deal with the pins spinning around or falling off, this need not be so especially if you use these few tips on keeping enamel pins from falling off.
These tips will help prevent your enamel pins from spinning and falling off, but they will help ensure you are always looking sharp and following the proper styling etiquette. As such, if you want to know how to keep enamel pins in place, you must choose an appropriate set of locks and accessories, and these few tips should guide you through.
Kingtai Crafts built our reputation on producing high-quality lapel pins for companies, organizations, groups, and events. We take pride in our reputation for outstanding design, quality craftsmanship, and the excellence of our products, and working closely with our customers to meet their needs.
Happy Wearing!!
If You Are in Business, You May Like
---
Post time: Dec-17-2022