We aim to find out quality disfigurement from the production and supply the best service to domestic and overseas customers wholeheartedly for Enamel Pins Custom , Custom Academic Medals , Custom Medals No Minimum Order , All the time, we have been paying attention on all details to insure each product satisfied by our customers.
---
Best-Selling Custom Lapel Pin Factory Manufacturers – Custom Soft Enamel Lapel Pins- China Manufacturer | KINGTAI – Kingtai Detail:


Best Soft Enamel Lapel Pins Manufacturer, Factory, Supplier In China
Soft enamel pins are likely the first style that comes to mind when you think about creating custom pins. That's because the process used for making these pins is a common and traditional one, and the resulting style of pins are some of the most popular and recognizable around. With so many years of experience with this process, KINGTAI can create beautiful quality custom soft enamel pins quickly and affordably, and to your specific requirements.
Die struck soft enamel pins are our most popular custom style, and the production method is very cost effective. Our team will work directly with yours to determine your artwork needs and finalize your design. We then create a special die with that design to strike the image into the base metal and plate it with your choice of finishes. Your selected enamel colors are added to the appropriate areas of the pin, which is then cured in an oven. The soft enamel pins are trimmed and polished, and your selected attachments added.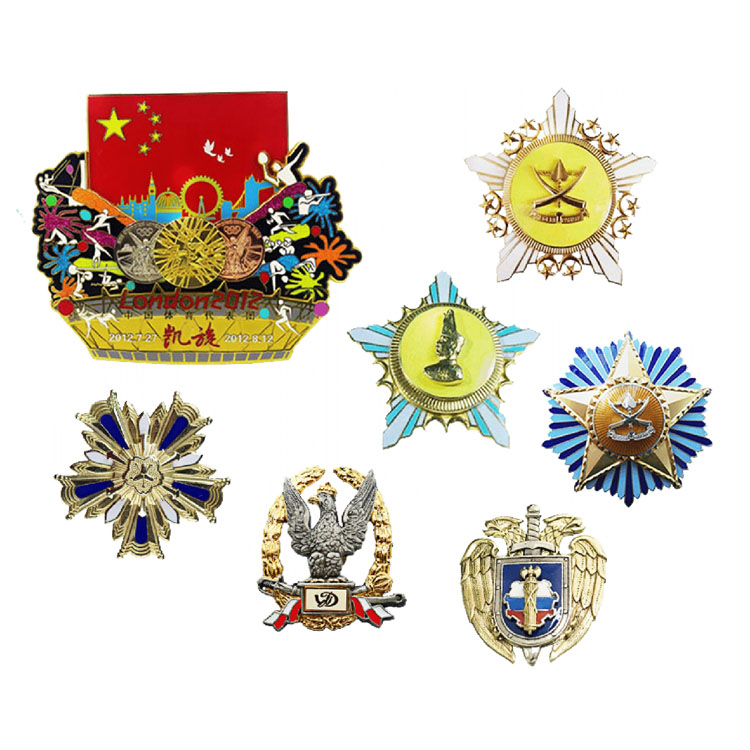 Custom Soft Enamel Pins
Don't let the name fool you, these custom lapel pins are not bendable or soft. These are custom metal pins filled with enamel color. They are our most popular custom enamel pins due to their inexpensive price point, high-quality manufacturing, and timeless look. The metal base is die struck and slightly raised, while the enamel is filled into the recessed cavities. These custom enamel pins work well with any design or logo. You really can't go wrong with this style.
Details
Minimum Order Quantity – 25 units per design.
Material – Iron or zinc alloy depending on the shape.
Enamel Colors – Up to 8 colors included, no set up charges.
Extras – Add backer cards, laser engraving or custom back stamps on the cart page.
Artwork
File Type – Vector preferred but all formats are accepted.
Plating Options – Included in the unit prices.
Enamel Color Matching – Full color guide available here.
Production/Shipping Time
Average Production Time – 2-3 weeks after proof approval.
Why Enamel Pins?
Custom made enamel pins are easy to produce and quite cost-effective. You have the ultimate freedom over your design choices because enamel paint is easy to work with. No matter how complex your design is, KINGTAI can deliver the top-quality custom enamel pin to your doorstep.

Get a Free Sample, Contact Us Now!

Write your message here and send it to us
Why choose KINGTAI custom enamel pin
Often those seeking custom lapel pins have a decision to make – pay much more for high-quality work or receive inferior quality pins while staying within a lower budget. We eliminate this decision for you! With KINGTAI you get the highest quality custom pins at prices you can afford. Plus, we have no minimum orders! You can order anywhere from 1 pin to 10,000 or more pins – and you can count on paying cheap prices no matter the quantity of your order. Get your personalized pins now without breaking your budget. We also offer fast delivery and we provide digital proofs for you to sign off on before production begins. Get started now.
Frequently Asked Questions
Why Custom Soft Enamel Pins Are So Popular?
With soft enamel, brass or copper stamped is possible. Similar in appearance to original cloisonné pins are also imprinting the design into a base pin metal materials. But custom soft enamel lapel pins use more rich enamel colors than cloisonné pins. Also, iron stamped can be also great with soft enamel. Pantone Colors can also used in this type of custom lapel pins. It is one of the lowest costs pins of all the different types of pins. The iron stamped enamel pin is the good choice for RUSH baseball trading pins.
So why choose soft enamel? Soft enamel lapel pins are considered the least expensive pin but still they can provide you a good quality pin. Our "PIN"engineers are standing by to create your custom designed custom soft enamel lapel pins!
Is Die Struck Soft Enamel Right for My Design?
A wide variety of custom designs can be made into soft enamel pins, although this process often works best with designs that feature clearly defined areas of color. The nature of the enameling process creates the traditional look and feel, with the colored areas sitting slightly recessed next to the metal edges. Extremely intricate and detailed designs may not be the best choice for soft enamel lapel pins, but this is a great choice for crisp, clean, traditional designs.
Our experienced team will be happy to help you determine the best custom pins for your needs, whether that's soft enamel pins or another process. Fill out our custom lapel pins quote request form with as much information as possible and we'll contact you within 1 business day to discuss your options.
Custom Enamel Pin Designs
Promotional pins are considered the starting point when it comes to custom pin designs. While simple, promotional pins are a great way to share your logo or brand with others. A more creative approach you can take is using custom pins as collector's items that showcase your artistic talent. Whether it's a simple logo or a complex art piece, a great enamel pin always starts with a striking design.
Even if you have no art or design skills, KINGTAI can help! Our staff of artists and designers have years of digital art experience, and are more than happy to assist you in the design process. If you're not confident in creating your own enamel pin designs, you can always send us your ideas in the form of written notes or even a small sketch. We even take doodles on a napkin! You would be shocked to see how capable our team is at bringing your ideas to life!
Once you approve your design, a unique die is created. This is then stamped into metal to create the raised and recessed areas of the pin. The pin base is plated in gold, silver, or whichever pin plating you have chosen. The recessed areas are then filled with coloured enamel paint (or translucent colors, which look amazing!), separated by the raised areas made by the metal outlines in the design stage.
For Soft Enamel pins, layers of enamel paint are applied to the recessed areas. Once the enamel is baked and dried, the pin's colors actually sit slightly lower than the raised metal areas, giving the finished pin a distinct outlined look. While less durable than cloisonné, soft enamel's low production cost and textured finish make it a great option for promotional events!
To learn more about how hard enamel pins are made, please visit our Custom Cloisonne Pins page.
To get started on your Soft Enamel pins today, just Email us, or complete our quick and convenient Free Quote form! Once you do, our sales representatives will contact you with further details. KINGTAI is ready to help you get started on your custom lapel pins project, and we can't wait to hear from you!
How to make make your own enamel pins?
Whether you're looking forward to developing your corporate identity, arrange a fundraiser, make collectibles for your fans, launch a new lineup of products, or anything else, Custom Enamel pins fill the void quite well. If you're not sure what enamel pins are, they are the good old lapel pins that you know but covered in enamel paint. The design you have in mind will be brought to light using the clever use of enamel paint layers. In terms of quality, you can go two different ways. Soft enamel pins and hard enamel pins. Soft pins have only one layer of paint and it sits below the metal casing of the pin. It creates a ridged finish that you can fill with your touch. The other type of enamel pins is hard pins. Instead of using one layer, these enamel pins are made with multiple layers of paints and baking them separately. It creates a very strong bond between the layers. Finally, the pins are polished to flush against the casing.
Ordering with KINGTAI is as easy as it gets. You need to navigate to our website and select lapel pins from the top navigation menu. You'll find all the different color options, attachment options, plating colors, packing options, different upgrade options, and so on. After you've decided what you exactly want, you need to contact our support to talk to one of the design managers. After further discussion, we're going to confirm your order and let you know the exact delivery date. Now, all you have to do is wait for the products to arrive. We can guarantee you stellar quality and top of a line finish on the enamel pins. Our designers can also help you to create your unique design if you don't have one ready yet. And you will have top quality enamel pins with wholesale price.
What factors should be considered for custom enamel pins?
If you have a great idea and want to make a pin.How to do it?Most people think making their own pins is a long and complicated process.It can't be complicated.The usual turnaround time is 1-3 weeks.So how do you start making your own enamel pins?
We simply break down the production process into six steps, as follows:
Prepare your artwork
In order to start production, the pin factory asks you to provide vector files of the design you want to produce.You can draw and color your idea sketches on a piece of white paper, or directly inform our designers of your design ideas, and they will give you an excellent artwork according to your ideas.
Some design-related tips I recommend to anyone starting out are:
To simplify the:Measuring about 1-2 inches, the pin design is a small canvas, so you can use it to convey the lines and details of your pin design, and when your design is simple enough, the better.
Use bold lines and strong colors:Pins are small, so thin lines and pastel colors tend not to stick out when viewed from a distance.So we suggest using bold lines and bright colors instead!
To avoid the shadow:The colors in the pushpins are separated only by lines, which means there are no shadows between the colors.By not including shadows in the pin design, you can save yourself and the factory some production time.
Decide what your enamel pin is made of
Our custom pins can be made from a variety of materials, but most pin manufacturers stick to two traditional formats.Hard enamel and soft enamel pins.What's the difference?
Hard enamel pin:
Their defining features are thin wires separating each color and a smooth, hard enamel finish.Made from die-cast iron metal, they are heated to high temperatures and then polished to form a smooth surface, which usually gives them a high-quality, durable feel.
Soft enamel pin:
The defining feature is its textured stitching surface, which allows for more detail and a slightly lower cost.Made from die-cast iron metal, electroplated and optional epoxy coating, this usually makes them feel thinner compared to hard enamel pins.
They are tried-and-true materials, so no matter which material you choose, you can make an outstanding pin.Choose whatever style best conveys your design!
Determine the size of the enamel pin you want
Now that you have your artwork and pin material ready, how do you choose pin size?Or what size fits your design better?These all need to be considered before you make them!
Smaller pins are typically between 0.75 and 1.25 inches.This makes them more portable and easier to wear, and because they use less material, the cost of a unit price pin is usually lower.The disadvantage of smaller pins is that they are usually designed to not allow for much detail.
Larger pins are above 1.25 inches, allowing for more detailed design because you're using larger sizes, but their size also limits where they can be worn, and larger pins are clearly not suitable for wearing on the chest.You probably won't see many people wearing 2-inch pins on their lapels.
If you're on a budget and have a simple design, a smaller pin might be a better choice for you.Pin prices are usually determined by pin size, so they can be cheaper.If you want to create a very detailed pushpin and don't mind paying a higher price, a larger pushpin is the right choice for you.
Decide how many enamel pins you want to produce
Before starting this step, make sure you have decided on the material and pin size.It's time to choose how many stitches you want to produce, it's easy.
Some manufacturers do not have a minimum order quantity, for example, we do not have a minimum order quantity.But we still suggest you to order more, because the price of unit price pin will be lower.If you are selling customized pins, we do not recommend ordering too many at a time. You can order part of them first, and if the sales effect is good, you can continue to order more.This option may be better for your financial situation.
Decide how many pins you want your enamel pin to have
A PIN-back is a needle-like mechanism, usually located at the back of a pin, used to temporarily secure it to a surface.When it comes to pin buckles, there's only one thing you need to be clear about:Always place two pins on all pins!Why is that?Using only one pin will make your pin wobble wherever you place it, and it's more likely to fall off and get lost.Losing a beloved pin can be a terrible thing, so we should be prepared to lose it.
Choose a reliable pin manufacturer
In most cases, your production and communication process with the manufacturer will look like this:You inform our staff of your design artwork and your customization ideas.They will provide you with cost estimates and final artwork for your approval.Once the artwork and costs are approved by you, you will need to pay a custom fee.They manufacture pins for you within the turnaround time they promised.After the pin production is complete, they will give you a tracking number of the shipment and then wait a few days for you to receive your custom pin.
What is a custom enamel Pin ?
Custom pins have recently made a comeback. Their antiqueness starts to make them cooler. Colleagues also because of the coronavirus in recent years. Many companies and health organizations are using custom pins to spread awareness and show support to those affected.
If you're not sure what custom pins are, how to use them or how much they cost, you've come to the right place. This article will answer your questions!
Custom pins are pins designed for a specific purpose. Custom pins are a way of conveying a special message. That's why it's popular with sports teams, businesses, clubs, etc.
They provide a way for fans, customers, employees, etc to show their love for them. Not all custom pins are used for commercial reasons, and many people collect pins simply because they look cool and fun, or use them as accessories to decorate clothes and bags. The pin is usually enamel-based, which means it's ideal for displaying a variety of colors, designs, and patterns.
What are some cool uses for custom pins?
Custom pins are very versatile and can be used in almost any situation or setting. As long as the designer has good control of style and occasion, customized pins will be perfect in line with the concept of the occasion, to express different emotions. Many companies choose hard enamel pins to generate brand awareness. Professional pins should always be fashionable and elegant, simple and generous.
If you plan to make pins for sale, use soft enamel pins. This way you can better express yourself and the latest trendy elements. Also, most people who buy pins for themselves want cool designs and patterns. They are not so concerned about the professional level of the pin, they are more concerned about whether the custom pin is creative enough, fashionable enough, attractive enough, etc.
How much do custom enamel pins cost?
Custom enamel pins are inexpensive. The cost of customization depends on your customization needs. Buying in bulk is the most cost-effective way to buy.
Depending on your order quantity and size, you can expect to pay approximately $0.60 to $5.00 per pin. If you are considering designing, buying, and selling your pin collection, you can opt for a larger number of custom enamel pins as the price of individual pins will be lower. However, the exact amount of customization depends on your actual needs.
conclusion
As you can see, custom enamel pins are very convenient and versatile.No matter who you are, what your company does, or how much you want to spend – custom pins are always appropriate. Few other projects vary so much in style and purpose. Whether you want to promote your business, praise employees. Or just showcase your design talent; Custom enamel pins may meet all your needs.
Custom enamel pins can be a bit expensive when you buy in smaller quantities and does not mean you should be forced to buy more than you need. You can choose to customize one or two enamel pins, depending on your actual needs, we will not interfere with your custom quantity requirements.
Endless Possibilities for Soft Enamel Pin Customization
The beauty of custom on-demand manufacturing is that you have an incredible amount of design freedom with every single order. For custom soft enamel pins, mix and match from the following options:
14 material finishes and colors
8 types of backing hardware
21+ enamel colors
12 add-ons and upgrades, including:
Glitter and glow-in-the-dark enamel
Rhinestones
Engraving and embossing
Epoxy coating
Sandblasting
What Are the Best Designs for Soft Enamel Lapel Pins?
Because soft enamel pins are die struck and feature raised metal borders separating all their enamel color fills, they are the best pin type for designs that have defined and clearly separated colors. You can see samples here. For intricate designs involving gradients or fine details, photographic lapel pins or silk screen lapel pins would work best. The best of both worlds is the slightly more expensive cloisonne lapel pin. It features the clean color delineation of soft enamel pins but gives you the option to add fine details to the surface of the custom pin with silkscreens due to its smooth surface.
You may need these before your order
Recommend Reading
---
Product detail pictures:


---
Related Product Guide:

---
The pretty loaded projects management experiences and one to a person support model make the high importance of business enterprise communication and our easy understanding of your expectations for Best-Selling Custom Lapel Pin Factory Manufacturers – Custom Soft Enamel Lapel Pins- China Manufacturer | KINGTAI – Kingtai , The product will supply to all over the world, such as: US, Swansea, Israel, We are eager to cooperate with foreign companies which care much on the real quality, stable supply, strong capability and good service. We can offer the most competitive price with high quality,because we are much MORE PROFESSIONAL. You are welcomed to visit our company at any time.